Win PDF Editor
Edit PDF Easily: Add Text, Insert Images, Draw Shapes, Remove PDF Text, Delete PDF Pages & Redact PDF Content.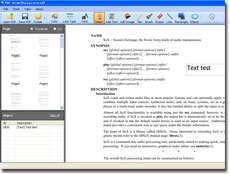 Win PDF Editor is a Windows PDF editing software product that lets you modify and edit PDF documents like adding text, insert images, removing unwanted content, drawing lines and rotating PDF pages. If you write text on the PDF, you can change the text font, size, color and move it to anywhere you want on the page. After inserting an image into PDF, you can resize the image and move it also. If you find some words or images need to be removed, simply use the eraser tool to erase. Better than other PDF Reader applications, Win PDF Editor can permanently save the edited PDF content changes in PDF. With "PDF Delete" and "Redact" functions, users are able to delete PDF pages and redact the confidential text from the PDF file.


All Tools Preview:
Add Text, Add Image, Pen, Brush, Eraser, Line, Rectangle, Ellipse, Color Selection, Copy to All Page, Page Rotation, Font Selection, Line Weight Selection, Page Delete & Redact Text.


PDF Editor Mac Version? Click Here
-
PDF Editor Mac
Compatible with Windows2000/XP/2003/Vista/7/8/10 or Later (32/64 bit)
100% Clean - Scanned by 40+ AntiVirus Products on VirusTotal.com - Click to see the Report