How to Fill PDF Forms
Learn How to Fill PDF Forms by WinPDFEditor
PDF (Portable Document Format) is the most popular document format in the world, and it is created by Adobe® Systems Inc. PDF format is designed to be exchanged and shared easily on the internet, and people can read PDF files by PDF reader software products, but writing text on PDF is not allowed. So if you want to fill PDF forms out, you need a special tool to do it.

WinPDFEditor is a Windows utility created for editing PDF documents, also the program allows users to write text or fill out forms. Below is a tutorial that shows you how to fill PDF forms out with WinPDFEditor.


1. Open a PDF Form File

Click the Open button to open a PDF Form File.
2. Choose Add Text Tool and Write Text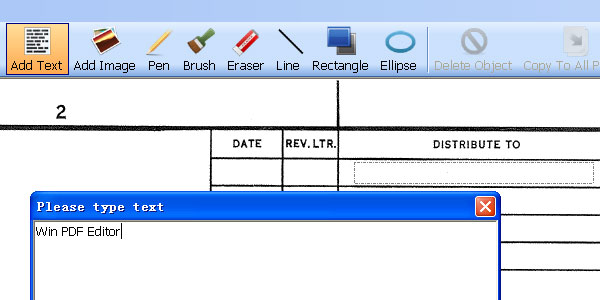 Choose Add Text Tool, use the mouse draw a text field, and add the text you want fill in the form cell.
3. Change Text Font, Size and Color

Click the Font button to change the text font, font size, or font type, and click Color button to change the text color. So that you can make the text looks similar as the original form text font and size.
4. Move the Text to the Correct Position

Click the Select button and click on the text, and then the text will be selected. You can see there is a red spot at the right bottom of text field. If the text field is too big or small, simply click and drag the red spot to resize the text field. When you move the mouse on the text, you can see the cursor changed to a cross. At this time you can drag the text and move to the correct position of the form.
5. Save the Filled PDF

After filling all form blanks, click the Save button to save the filled PDF result. The program will ask you for the new filename: you can click on the original file to overwrite, or type a new name to save as a new PDF file.